Engineering
SolutionsSince 1995
Nuclear – Oil & Gas – Offshore
25 YEARS OF EXCELLENCE IN THE ENERGY SECTOR
RH Mechanicals has served the nuclear and oil and gas industries in welding, fabrication, manufacturing, specialist recruitment and training services, for 25 years. Established in 1995 at Koeberg Nuclear Power Station, we presently hold ISO 9001: 2015 and ISO 3834-2 certification. As per the National Nuclear Regulator (NNR), RH Mechanicals has been approved to perform RD34 work.
We hold a BBBEE Level 2 certification and our workforce is primarily made up of skilled, semi-skilled and professionally qualified people from historically disadvantaged communities.
RH Mechanicals is rated as a Level 6ME company with the Construction Industry Board of Development (CIDB).
RH Mechanicals strives for excellence in everything that we do. To this end the organisation has adopted an Integrated Management System (IMS) that prioritises safety, health, environment and quality principles.
Nuclear and conventional safety is our highest priority and will not be compromised
We are responsible for our own safety, that of others as well as the plant
Continual improvement in the areas of safety, health, environmental protection and quality is fundamental to our success as an organisation
Management is committed to the implementation of the SHEQ policy and drives the programme throughout the organisation.
The organisation will use human performance tools, learn from operating experiences as well as apply ALARA principles to prevent harm to themselves, others, the plant and the environment.
All staff must understand and demonstrate personal accountability for the behaviours and work practices that support nuclear safety and improved quality.
RH Mechanicals has an established, documented, implemented and maintained Integrated Quality Management System which ensures that customer requirements are met. Areas of significance in this respect are:
Management commitment and review
Risk identification and assessment of all work
Verification and authorisation of all materials, machines and personnel
Environmental consideration
Planning
Control of documents and records
Effective communication
Identification and documentation of roles and responsibilities of all staff
Resource management
Training and development
Quality control of product and service
Measurement, analysis and improvement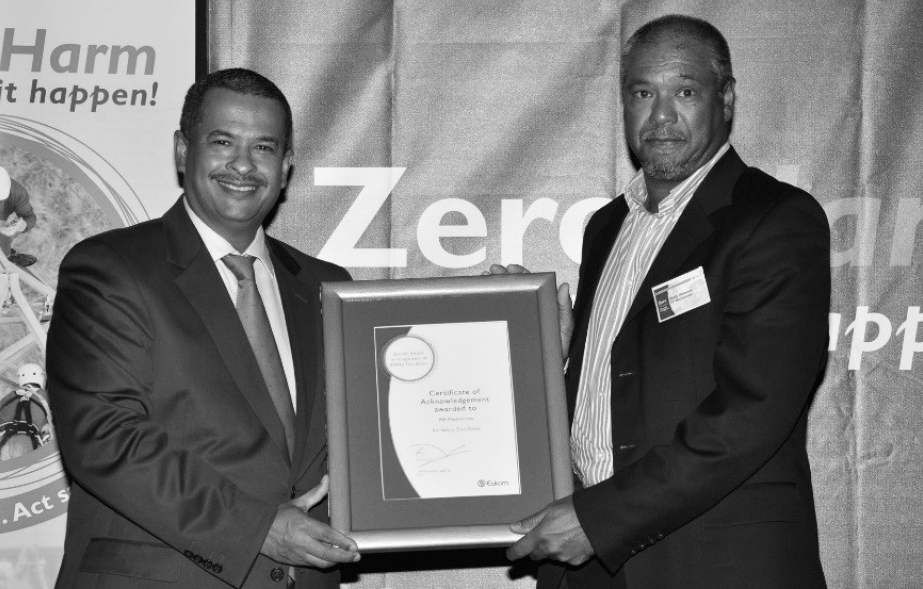 Managing Director, Rhedewan Hassiem, receiving
a "Zero Harm" award for excellence in safety
International requirements for a quality system that is consistently able to meet customer and regulatory requirements and is able to demonstrate continuous improvement.
European and International Standard of certification for welding excellence. It is a guarantee to our customers that we have an established quality assurance standard for our welded product. ISO 3834 assures compliance in the following 3 areas: An operative and established quality management system, a welding engineer with the appropriate responsibility and authority in accordance with DIN EN ISO 14731 and welders with the appropriate certification in accordance with EN 287-1, ISO 9606-2.
The National Nuclear Regulators requirements for quality and safety- to ensure that safety and quality is appropriately taken into account in all activities in the life cycle of nuclear installation.
RH Mechanicals (Pty) Ltd
Postal Address
PO Box 230
Blackheath
7581
Physical Address
31 Nebula Road
Blackheath
7581
rudy@rhmech.co.za
abdoela@rhmech.co.za
qaanita@rhmech.co.za